R35
September 14, 2018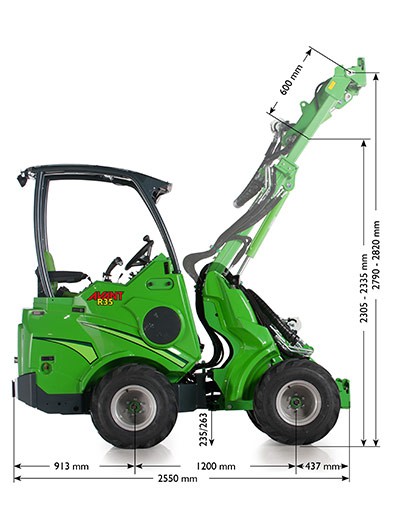 TURN SHARPLY IN TIGHT SITUATIONS – R35
Powerful special model particularly for farming and horse farms
Driver's seat in the rear chassis
Turns more sharply in corridors and tight situations
Telescopic boom as standard
Cab L also available as an option
R SERIES COMPARED TO OTHER AVANT MODELS
VISIBILITY 
Forward attachment visibility in the R Loaders is a little weaker than in traditional Avant loader due to driver sitting on the back frame of the loader. Because the cabin is further away from the attachment, drivers may not have full visibility to the attachment.
Dimensions
The outer dimension of R series and traditional Avant models only differ in height. Due to the location of the control mode and cabin, the R loaders are approximately 10cm higher than the traditional models.
LIFTING CAPACITY 
While machines are straight and not inverted the lifting capacity between the machines are extremely similar. Once turned, the R Series loses more lifting capacity than with other Avant models. This is because the machine structure doesn't have as much moving counterweight. When turned, the R loaders lose approximately 150kg of lift capacity.
ROTATION
The R35 is easier to turn in very tight situations, because the driver's seat doesn't extend beyond the turning radius of the wheels. The advantages of the steering system are best shown when driving along narrow corridors and in tight situations indoors.
See what attachments to use with the R35 here. The R35 is designed and manufactured by Avant Tecno in Finland. For more information call 1800 686 411