An essential part of Avant Tecno's strategy has always been to keep the manufacture of the loaders in their own factory from start to finish. This strategy was formed during the early years of the company.
The production rate has developed from one Avant loader per day, to one loader per hour, in two shifts. This enormous change required the implementation of many measures and guidelines for the improvement of operations.
Avant Tecno manufacturers Avant loaders and attachments in their high-tech manufacturing facility in Finland. They have built a customer-oriented and automated manufacturing facility that ensures excellent reliability of loader deliveries, a high level of quality and the ability to oversee operations and improvement productivity when needed.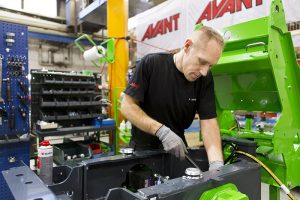 Avant Tecno has invested nearly 10 million euros in production over the last eight years. Initial production is carried out with a modern cutting line, containing three lasers. The edging cells are traditional, but an automatic bending system is currently in R&D to improve quality and efficiency and make the work easier.
The frame components have been welded by robots since 2007. Eight automatic robotic welding stations are used today. Avant Tecno would like to have fully automated welding and are approaching this goal. The Avant loader frames are painted in the semi-automatic powder coating plant before the assembly line.
Avant Tecno is constantly looking into new production innovations. The continuous improvement of their operation, raising the level of automation and the high-quality use of automation pave the way for Avant Tecno's future. They have recently acquired some facilities on a neighbouring site, which improves the possibilities to grow and develop even more.