Australian Honey Group Reduces Operator Fatigue, Load/Unload Times W/ Avant 635
October 19, 2018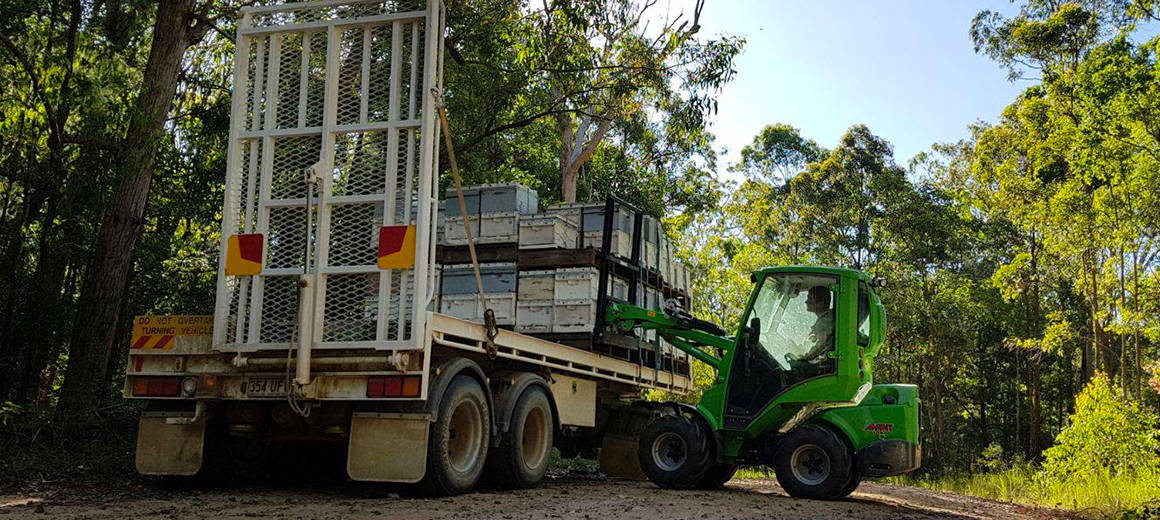 Leading Australian Honey supplier, Australian Honey Group, were experiencing a lack of versatility and efficiency with their old loader. This decreased their efficiency and forced restrictions on their business. The absence of a sealed cab meant they needed to wear bee proof clothing, reducing visibility and impacting comfortability. "We didn't have something that would meet all of our needs. Loading and unloading the truck could be particularly unpleasant in darkness, with stings and in transport", explains Rick Joyce, Australian Honey Group Managing Director.
Challenge
According to Rick, Australian Honey Group were experiencing several challenges surrounding the effectiveness of their machines across their business. Due to length of their old machine, it was transported vertically on the truck. This used up valuable tray space or required a wide load setup. This imposed set restrictions on how and where they could operate.
Without a sealed cab, operators had to wear bee proof suits. This restricted visibility, particularly when unloading and loading during darkness.
Extra time taken in loading and unloading, reduced lift capacity as well as machine attachment set up took a lot of man hours away from the bee keeping operation and focused it on the logistics side of the business. This has costed Australian Honey Group thousands of dollars annually in productivity losses across their business.
"Before the Avant, we were driving down a dark road with no headlights. Now our business can't do without it. It's a crucial part of our logistics operation", Rick Joyce, Managing Director
Solution
Avant's 635 Articulated Loader enables operators to proactively increase efficiency and versatility. This is without increasing staff or responsibilities, while simultaneously improving operator comfort and work quality. The compact loader size allows horizontal parking on the back of the truck with the forks still attached.
The Avant 635 for the bee keeping industry targets visibility and efficiency, lift capacity and power offering a range of attachments to suit any logistics job. With the telescopic boom, the 635 loader powers a 1100kg lift capacity and up to 2.8 meters high while the unique articulated chassis allows operators to move across a variety of terrain without damaging them. With over 100 attachments and optional cab fittings such as the fully enclosed a/c cabin, the 635 will help you do more with materials including carry, move, lift, grab.
Despite the increase in power, comfort and versatility Avant don't compromise on safety. From the load sensor system which provides an audible warning if the rear wheels are about to lift off the ground to the Avant quick hitch system allowing easy, safe and fast attachment coupling, the Avant range maintains both functionality and aesthetics as well as providing increased opportunity for the operator to respond to machine issues.
"The Avant 635 Beekeeper has greatly improved the efficiency of our operation. Loading and Unloading the truck and dog trailer load times have improved and so has the loading and unloading the machine procedure. Forks are quickly folded and left on the machine. The new wheel mounted tie down points work brilliantly for quickly restraining the machine on the truck. The lift capacity is also impressive for a machine which is so compact" says Rick Joyce, Managing Director.
Results
The Australian Honey Group have seen a direct and positive impact by using the Avant 635. In addition to reducing unload and load time and tie down, being able to park the loader horizontally on the back of the truck and reducing operator fatigue, the air-conditioned cab has offered the biggest operational difference. It offered several advantages including:
Visibility is greatly improved as a hood or veil is not required when loading and unloading hives or supers
The sealed bee proof cabin offers a retreat for unexpected tasks that require hood removal (phone calls amongst others) within the apiary working the hives (under-supering, pulling honey off)
The Cabin also provides a secure safe haven to remain in should an issue occur when moving pallets of hives. For example, if a hive falls, the operator can comfortably remain in the cab until able to safely rectify the issue.
The Avant controls, dash, dials and seat are consistently protected from the elements. This ensures they remain in good condition despite repeated and consistent use.
In addition to the well-functioning air conditioning, the Avant offers a luxurious seat, excellent lighting and a bee proof environment. This reduced operator fatigue levels across the board.
"If we were asked to name our top supplier, Avant Equipment (Australia) would be the one. They always return calls promptly and do what they say they will do. Avant have an incredible range of parts in stock and are always there with support if we have any problems. Seriously customer focused, a pleasure to deal with. 10/10", concludes Rick Joyce, Managing Director.
See our full range of Loaders here. Manufacture of Avant Compact Loaders and attachments takes place by Avant Tecno in Finland. For more information call 1800 686 411 or contact us.